Role: Associate Game Designer
Full time

Salary $60-$80k + super

Remote work

October start (flexible)

Application close 14th October 2022
​
About Enabler
Enabler is a profit-for-purpose company creating engaging training for disability and aged care workers by combining the benefits of serious games, 3D simulation technology and scenario-based learning. We are leading the movement for relevant, practical training that makes a real impact on workers and people with disability.
We are a small multidisciplinary team working collaboratively with service users, subject matter experts and industry stakeholders in the creation of our content.
The Role
We are expanding and looking for a Game Designer (or writer with game design skills) to join our team. You will be working under the direction of the lead designer and will collaborate with the artist and developers to create designs of gamified training scenarios.
​
We are considering applications from junior to mid-level designers.
The role is full-time with 100% remote work. Australian location is preferred but not essential. Flexible working hours are available, provided you can participate in digital meetings and meet deadlines during local business hours (AEST).
​
About You​
Capable of creating narrative-driven, branching and engaging designs simulating real life situations

Able to work collaboratively with customers, subject matter experts and our team

Open to feedback and willingness to work adaptively

Solid understanding of game design principles to enhance engagement and user experience

You have writing skills to create dialogue between in-game characters

You are able to communicate effectively with your team and external stakeholders
Responsibilities
Follow design briefs to create branching, complex designs which meet specific learning objectives

Develop new design ideas and suggestions to fit with design briefs

Ensure that the designs meet product requirements

Maintain updated and clear game design documentation

Update designs to incorporate feedback following each testing round
​
Requirements
The successful applicant must have:
Experience designing narrative-driven games (or game scripts)

Excellent written communication skills

Fluency in English

General knowledge of Serious Games Design and Gamification
A degree or diploma in Game Design is highly desirable, but not essential if you can demonstrate your skills and knowledge through your portfolio. Experience in Serious Games, training or education is highly advantageous.

To apply, please email your resume to hr@enablerinteractive.com
This is an inclusive employment opportunity. We actively support and encourage diversity in the workforce and do not discriminate based on race, religion, colour, national origin, gender, sexual orientation, age, marital status or disability status.
​
​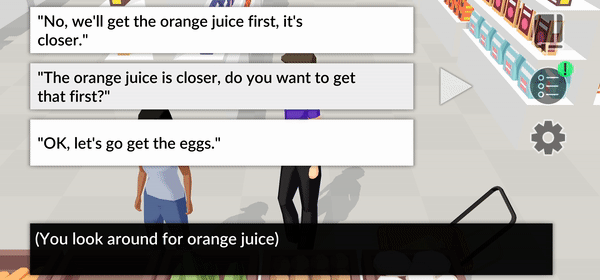 Huy is the founder of Enabler. Huy is an engineer, seasoned social entrepreneur and NDIS participant. Huy started Enabler because he wants everyone to have the quality support they need live full and meaningful lives doing the things they love. Huy spends his free time mountain bike riding, thrill seeking and traveling.

Huy was named ACT Young Australian of the Year 2014 for his extensive work to improve accessibility and inclusion for people with disabilities globally.
Jessica has a background in Law and Science. She heads up operations and is also Enabler's lead content designer and production manager. She is passionate about innovation, education, social impact and ethical business practices.
Jessica loves cooking, skydiving, travel and is a passionate environmentalist.
Jessica thrives in her multi-faceted role where she can utilise her management, science, legal and creative skills.
Matthew heads up the development of Enabler's cutting edge technology. Matt is a Software Engineer with over 15 years' professional experience. In his free time, Matthew loves playing and creating video games and Zouk dancing.

Matthew has designed and programmed business software and interactive entertainment software, and enjoys working in his role which combines both.